FISHING IN THE UNITED KINGDOM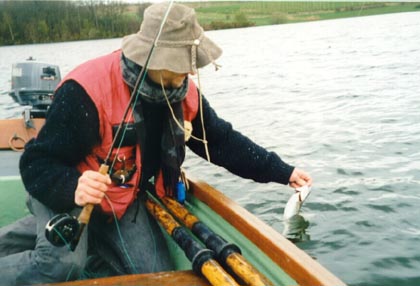 Altough the fishing experiences of the RCCB in the UK are quite limited, many of our members make regular trips to various locations on an individual basis. Many have acquired a considerable experience in the practice of salmon and seatrout fishing mainly in Scotland and Ireland. Here is a sample of various locations visited by the RCCB in the UK.
England
-) Rutland reservoir, Oakham: This is probably one of the best waters for "match the hatch" reservoir fishing in the UK. The ideal solution consists in a 3 day package including ticket and boat (£ 100). We stayed in B&B accomodation at the Noel Arms Hotel in Whitwell (good food, the landlord is a keen angler).
Bewl Water: In the Garden of England

(french version)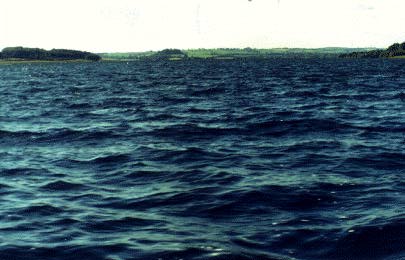 -) Darwell, and Powerdemill, near Bewl Water. People are very nice, and the fish population as good as the best English reservoirs. The best period is september, when the trouts are on the fry. Wild attacks and spectacular fights. Both reservoirs are located less then 15 kms away from Bewl.
Best flies for this time of the year: mini Cat's Wysker, perch fry, ... As Emergers, best choice is Orange Shipman's Buzzer and Shuttlecock Black (Jack Lognay)
-) River Torridge, Taw and Yeo; Great Torrington (Devon): Fishing for salmon, seatrout and brownies on these three rivers. For more information contact John and Simon Gawesworth.
-) River Ouse, Barcombe, Sussex.
-) Weir Wood reservoir; Forest Row (East Grinstead).
-) Arlington reservoir; Lewes.
-) Chalksprings fishery; Arundel.
Wales
-) River Teifi, Llanybyther (near Lampeter): This is a very good trout stream which also offers the possibility of salmon and seatrout fishing in July and August. Accomodation at the Black Lion Hotel (the river flows in the garden).
-) Lake Vyrnwy, one of Great-Britain's historic reservoirs, near Liverpool.
Scotland
-) River Tummel, River Carron and Loch Faskally; Pitlochry.
-) Loch Tay, River Lochay and Dochart; Killin.
-) River Spey and Loch Laggan; Kingussie and Newtonmore: This place is located too far upstream for expecting good sport with salmon but there are good possibilities for trout fishing and especially night fishing for seatrout.
-) River Borgie and River Naver; Kyle of Tongue: Salmon fishing can be very productive if the water levels are high (spate river). Loch fishing is free and good sport can be found if you are ready to walk for a few miles.
-) Loch Lomond; Balmaha boating station. Trolling for salmon or fly fishing from a boat.
-) River Shin and River Oykel; Invershin, Bonar Bridge.
-) River Garry, Loch Ness; Invergarry.
For any information about these fishing locations send an E-mail to Luc Pierssens RCCB.